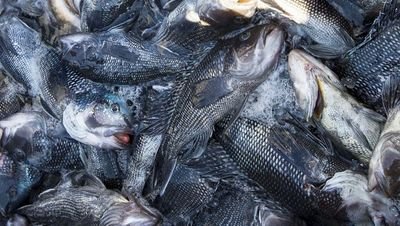 Sea Teaser Sport Fishing offers Sea Bass fishing trips. See the Nearshore sections for rates.
What's the best time of year for Sea Bass fishing?
Sea Bass Fishing in Virginia starts to heat up in May and gets better in June – peaks in July, August, October, & November. Sea Bass fishing is closed in September. December is still good but on the slide down. Book Now to secure your spot on Sea Teaser.
How do we bait for them?
Typically we use squid, crab, cut fish, cut bait, clam, shrimp, diamond jigs, metal jigs.
Where do we find them?
Bottom fishing, generally near and over underwater obstructions like wrecks, reefs, rocks and rough bottom areas. Many excellent places to catch Sea Bass in Virginia Beach waters.
Average size for Sea Bass
The Sea Bass ranges from 1 – 4 pounds but there is a Virginia state record in the double digits!
Ready to catch some Sea Bass? Click Here for details on our Specialty fishing charters on Sea Teaser.