Sea Teaser Sport Fishing – Best Deep Sea Fishing Charter in Va
Call or Text 757-752-0910
Deep Sea Fishing – get ready to Fish!
Are you ready for a fishing trip of a lifetime? Get ready, because Captain T is about to deliver big. Fishing charters in Virginia Beach are a way of life. Tyler Rowe – Captain T has been on the salty seas for many years. And now running fishing charters on the coastal waters of Virginia Beach is what he does for a living.
As you slow to the fishing grounds in the deep blue of the great Atlantic and drop those lines over, your heart will start racing as the rod bows up – FISH ON! And this is where the fun begins. You'll be pulling fish after fish into the boat and slinging them into the fish box. Tile fish, sea bass, mahi, bluefin tuna, yellowfin tuna…the list is endless.
Captain T will put you on the fish. Virginia Beach charter fishing is what Captain T lives for – and he has a passion and a knack for finding those fish. With cutting edge electronics, a network of professional fishermen and a lifetime of experience, Sea Teaser is the fishing charter for you. Call or text us today at 757-752-0910.
Ready for some Billfish action?
Have you seen it on Youtube, TV or even had your own experience of that big blue busting out of the water??? Well, get ready – Sea Teaser is your go to for some billfish. Blue Marlin, White Marlin, Sailfish – YES! When they crash the spread and take that bait, the drag screams and line starts ripping of the reel, it's on!
Start reeling that bad boy and wait for the show to start. Seeing a marlin bust out of the water is exhilarating, especially when you're on the other end of the battle. Having the experience of backing down on a big blue marlin is one of a lifetime, and Captain T does it daily. Get a trip booked on Sea Teaser and get your camera ready – you're gonna make some memories!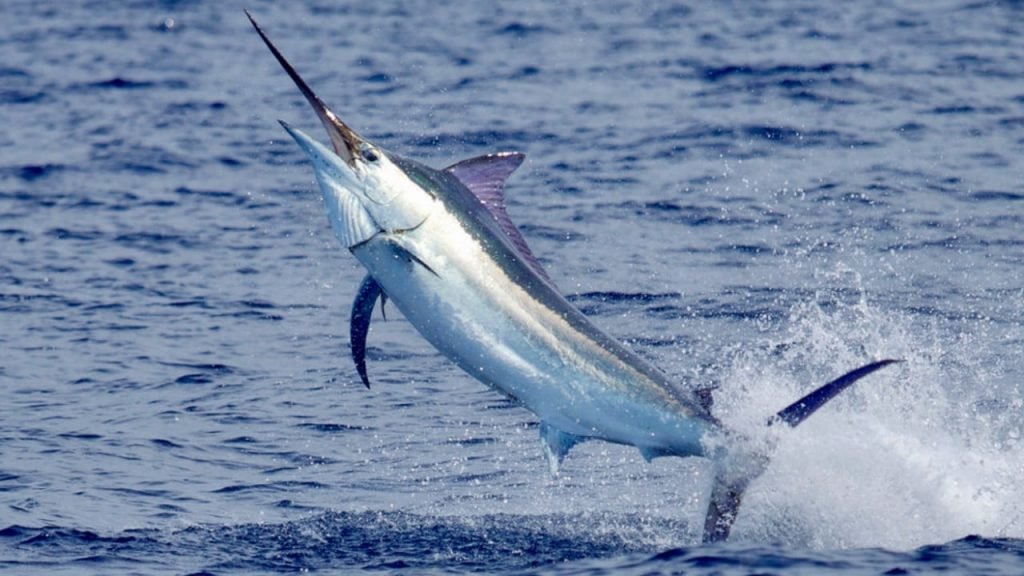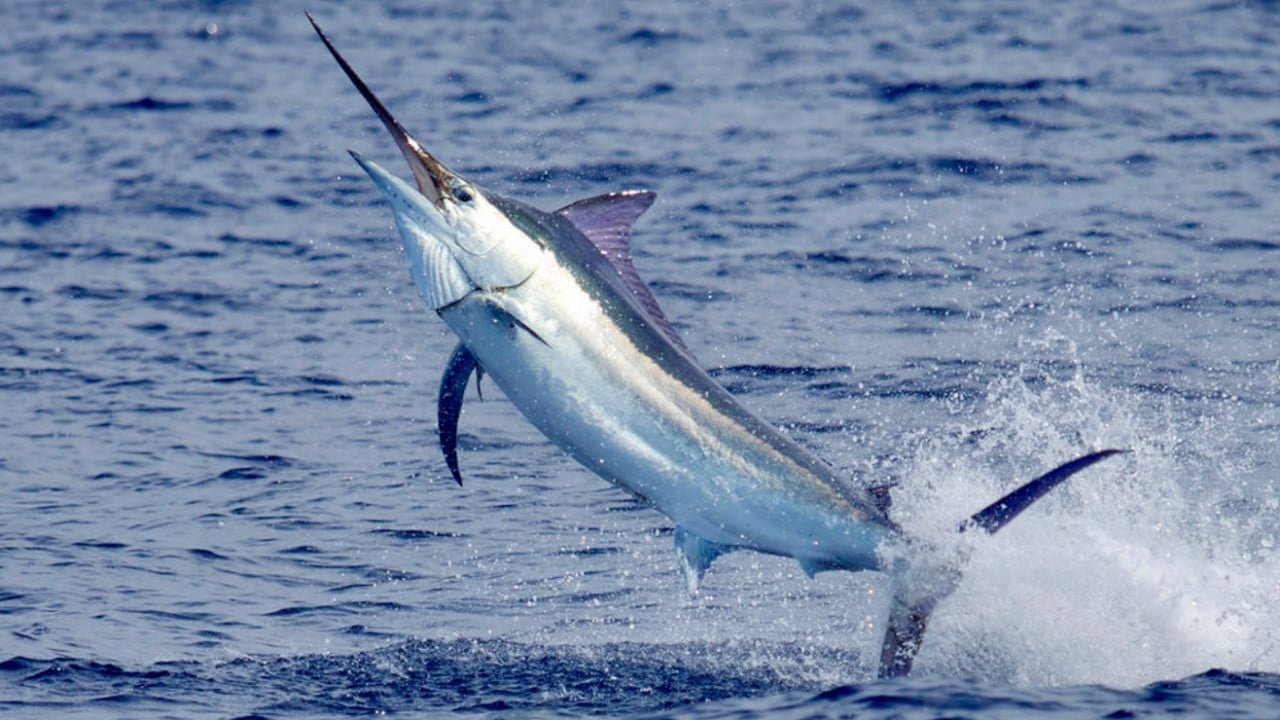 Mahi Fishing in Virginia Beach is remarkable
Are you ready for some fun, non-stop action? When the bite is on, it's on! The Mahi have been showing up in spades off the coast of Virginia Beach and Captain T knows how to get them in the boat. The Mahi, also referred to as dolphin fish, are super fun to catch and make an excellent meal. Our offshore trips would not be complete without some Mahi action. To get on a school of these fish is another experience of a lifetime – slinging them into the fish box, gaffing them over the edge, bailer fishing for the smalls, it's all a blast.
Book a Mahi charter on Sea Teaser and tell your friends. This is a must catch fish that you will love. Up and down the East Coast, the Mahi bite is hot, especially here in Virginia Beach. Get on the phone with Captain T and get your trip date booked. Call 757-752-0910 Today!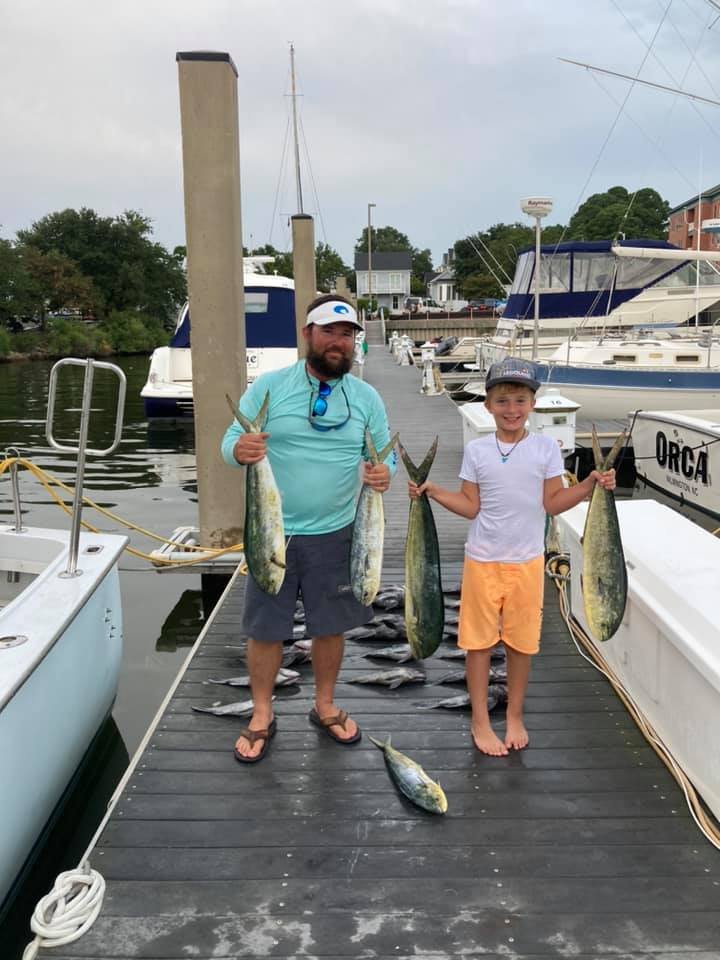 Sea Bass Fishing – Guaranteed to produce
When Sea Teaser heads out off the coast of Virginia Beach for Sea Bass, you can rest assured that there will be major action. Double, triple, quadruple hookups and 2 – 3 fish per line, Oh yeah. The Sea Bass charters are productive, for sure. This is a good one for the whole family too – nothing like seeing Dad & Jr both bowed up side by side pulling multiple fish into the boat! And it's even better when mom shows up and out fishes everyone!
Get your fishing muscles in shape and get a trip booked today. Call Captain T at 757-752-0910.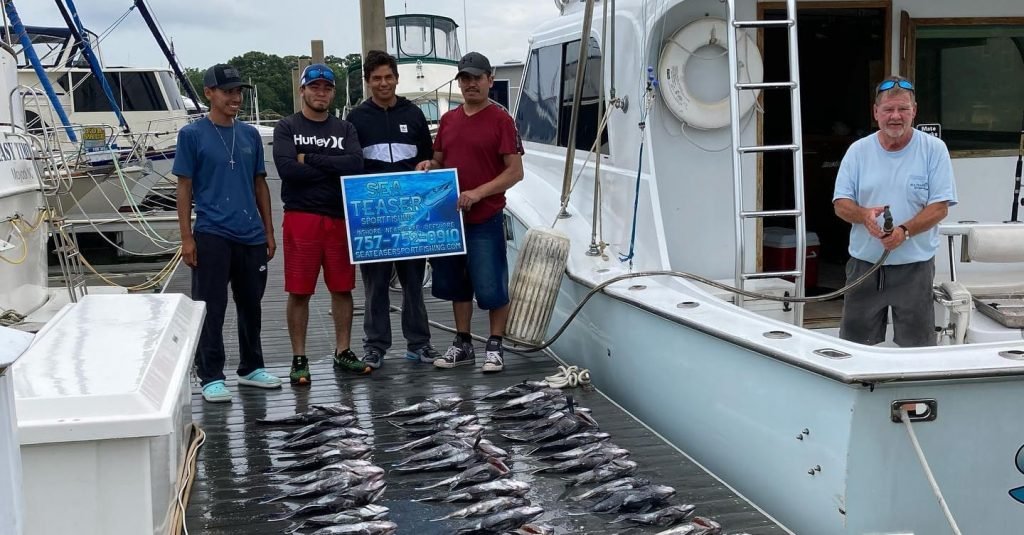 Spanish Mackerel – King Mackerel, let's go!
Yes, the Mackerel fishing off the coast of Virginia Beach is on point! The mackerel show up every year, will you be here when they are? Trolling the Virginia Beach ocean front to the deep blue of the Atlantic is a sure fire way to get the mackerel in the box. Once the drag starts ripping, get ready for some fun – especially on those kings! Mackerel fishing is a blast, and they make some great fish taco's!
Get a fishing charter booked today on Sea Teaser and get ready to catch some mackerel – call 757-752-0910.
Virginia Beach Tuna Fishing Charters
When it comes to charter fishing in the Atlantic ocean, Tuna comes to mind for many. And Sea Teaser will deliver for offshore tuna fishing. Bluefin tuna, blackfin tuna, big eye tuna, yellowfin tuna – they are all out there. Virginia Beach fishing is not complete without a run at the elusive Tuna! There have been many bluefin tuna caught off the coast of Virginia Beach as well as bigeye. We see mostly Yellowfin in the deep blue waters of Virginia Beach and they are a blast to catch. And they make excellent meals. Sashimi, sushi, tacos, seared, grilled, fried or fresh at the cleaning station – your Tuna charter awaits on Sea Teaser – 757-752-0910.
Book your Offshore Trips now
Fishing in the Deep Blue of the Atlantic not knowing exactly what you're going to bring to the surface is something that memories are made of – from the deep lurking and elusive swordfish to the surface cracking tuna, sometimes it's a mystery. To catch fish in the deep blue is definitely a rush.
We may be offshore fishing for a marlin and get surprised by a school of tuna. Or the other way around. Even a Mako shark or other species may join the party. Offshore fishing always brings some mystery – many unknowns in the deep blue waters of the Atlantic. From the false albacore and sighting of the humpback whales out past the Chesapeake Light Tower, many species are found offshore.
Once the Yellowfin tuna start feeding, you will experience some great fishing. There's great fishing year round off the coast of Virginia Beach, but the offshore scene is unique. The deep waters of the Norfolk Canyon hold some amazing catches. Not knowing what's on the line until you see the color come to the surface is quite a rush.
Book your offshore fishing trip with Captain T today and let's catch some fish! Call 757-752-0910 to Book Now!
Call or Text 757-752-0910 to book
Charter Packages
We offer several charter options at different price points. Click the links to get the details on each.
Inshore within 5 Miles from shore:
Nearshore 5-20 Miles from shore:
Offshore 20+ Miles from shore:
What we are catching
And many more…
Types of Fishing
Here in Virginia Beach, we use the following methods of fishing:
Trolling, Live Baiting, Deep Sea, Wreck or Reef
The Chesapeake Bay, Hampton Roads Bridge Tunnel (HRBT), Chesapeake Bay Bridge Tunnel (CBBT) are two remarkable spans that also make for some amazing charter fishing. The HRBT is a 3.5 mile span connecting the city of Hampton, near Fort Monroe on the Virginia Peninsula with Willoughby Spit in the city of Norfolk. The CBBT is an astounding 17.6 mile span connecting Northampton County on the Eastern Shore to Virginia Beach on the Western Shore in the South Side area commonly referred to as Tidewater.
You'll also want to look out for the Cape Henry Lighthouse as you head East into the deep blue of the Atlantic. Along the way, you'll pass by First Landing State Park and Joint Expeditionary Base – Fort Story. Some amazing history here in Hampton Roads and all of Virginia. Virginia Beach fishing charters and deep sea fishing are only part of the fun.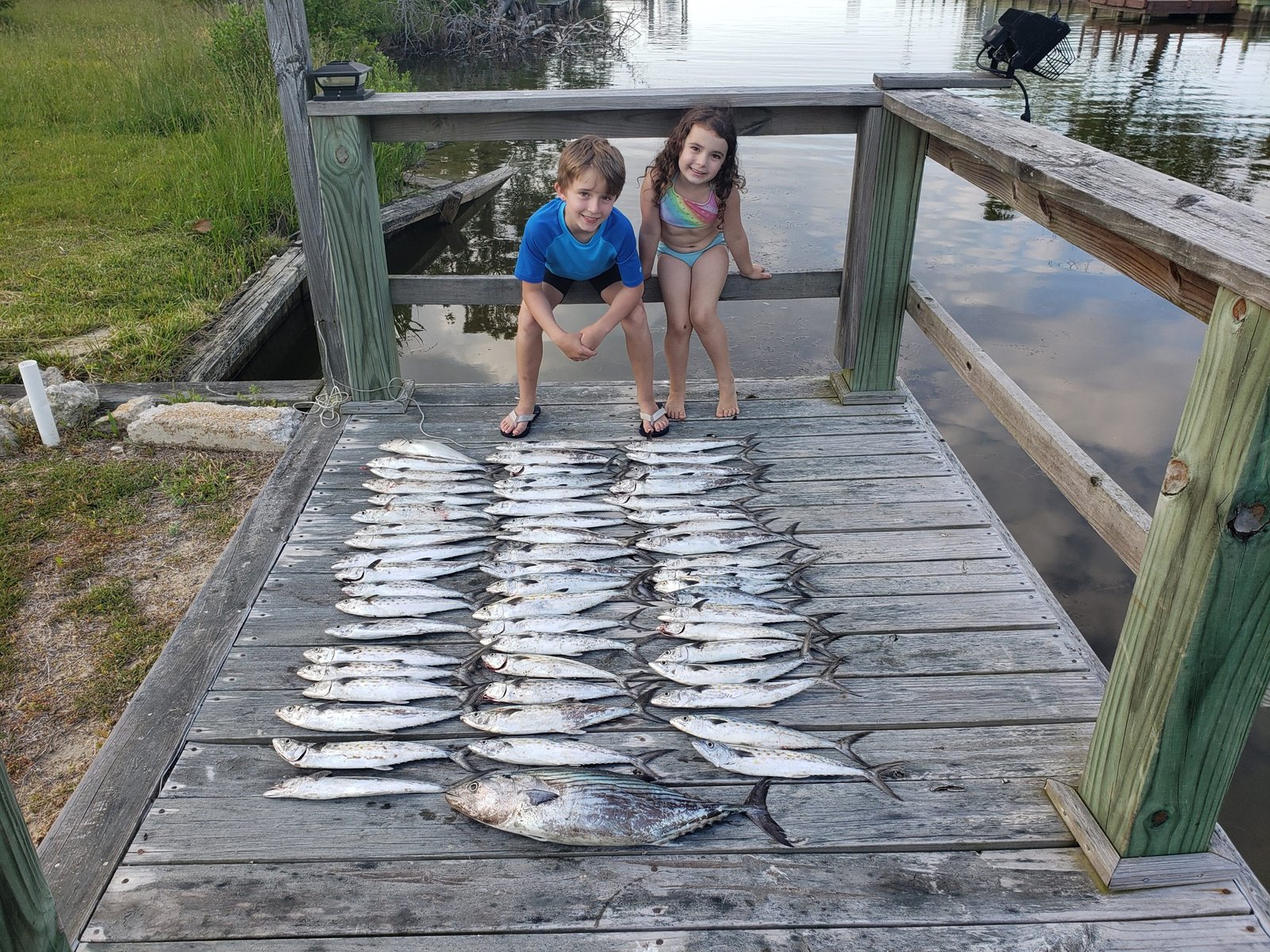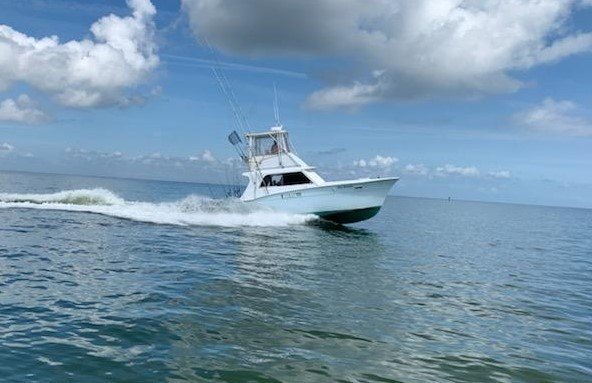 Sea Teaser Sport Fishing
Rudee Inlet Station Marina
308 MEDITERRANEAN AVE, VIRGINIA BEACH, VA 23451
AND
Fisherman Wharf Marina
524 WINSTON SALEM AVE, VIRGINIA BEACH, VA 23451
757-752-0910
---
Virginia Beach Charter Fishing Offshore, Inshore & Nearshore
One of the most amazing things about booking a charter in Virginia Beach are the different options of fishing. Great Virginia Beach fishing has been known forever, but if you're not familiar, you may not know. The Chesapeake Bay is an actual fishing haven – there are so many species in the Chesapeake Bay that we, as locals, almost forget how much it has to offer. The striped bass fishing in the Chesapeake Bay is known world wide. From the furthest point south where the bay meets the Atlantic all the way to the north – striped bass migrate through the entire bay. Inshore fishing at its finest. The bay also holds flounder, among Chesapeake Bay's favorite fish, speckled trout, red drum, black drum, croaker, cobia, ribbon fish large schools of rays that travel the bay regularly.
We're also blessed with amazing wreck fishing in the bay as well as nearshore and offshore. From a half day nearshore trip to a full day offshore trip, we have some excellent options and you'll have an amazing time. And on Sea Teaser, it will be a good deal no matter which option you choose. And we have great year round options to consider. If you're from out of town, you may consider fall fishing when the temperatures start dropping and right with the hotel prices. Many come to Virginia Beach in the peak season of summer for the beaches but you can catch some great deals in the off season. Just because it's not peak season for the beach doesn't mean it's not peak fishing season for certain fish!
Fall means fishing in cooler temperatures and some fun fishing with light tackle. Speckled Trout are a great fall fish to target and Striped Bass if you want to go after the bigger game. November means fishing for striped bass in the bay can be excellent. The fish remain active all year, so you need to get your trip date booked before we sell out! Call Captain T at 757-752-0910 to get booked today.
The best time to book fishing charters in Virginia Beach is when you have time. The fishing charters here are always running. Browse through the different pages on our site to see when the yellowfin tuna, bluefin tuna, blue marlin, white marlin, sea bass, big striped bass, mahi, cobia and more are likely to show up when you are able to. One thing for sure is charter fishing in Virginia Beach will certainly earn you a festive meal. And if you're day fishing, you're not working, so that's even better!
Fishing is always better than working, especially on fishing charters. Virginia Beach fishing is the best. Virginia Beach is drivable to so many areas of the East Coast – so many of our customers drive from New Jersey, New York, Pennsylvania, Maryland, Delaware, the Carolinas and many of them from other parts of Virginia. With so many hotel options in Virginia Beach, especially once the crowds disperse, you'll be sure to have a place to stay. And for our locals, getting to Rudee Inlet is a breeze. Everyone in Virginia Beach knows that Rudee Inlet is easily found at the south end of the boardwalk.
So, find your way to Virginia Beach, even if you're local, and fish until your arms hurt! And if you come in the peak season, bring your entire family – there's always fun to be had by all here in Virginia Beach. We look forward to seeing you soon!
The best Charter Fishing is in Virginia Beach
There have been talks, tales and now we have statistics – Virginia Beach Fishing is among the best in the nation! Yes, you heard it right, Virginia Beach has some of the best fishing in the entire country! From inshore fishing to offshore fishing and in between – Virginia Beach Fishing is the best. If you live in Virginia Beach, you are lucky. If you don't line in Virginia Beach, you're still lucky, because you can get here. We have the Norfolk Airport – only minutes from Virginia Beach. We have Newport News Airport, just across the Chesapeake Bay from Virginia Beach or you can always drive to Virginia Beach.
Once you get to Virginia Beach, you have lots of options to stay and fish. We would like to think that Sea Teaser will be your first option for a fishing charter in Virginia Beach, but we may be booked that day 😉 There are many good fishing charters in Virginia Beach and we would love to earn your business. Captain T works Very Hard to assure that you catch fish and he wants to make sure that you have a great experience when fishing on one of his vessels.
So, when you're looking at Fishing Charters in Virginia Beach, make sure you call Captain T at 757-752-0910. With multiple vessels to choose from, for inshore fishing, offshore fishing and nearshore fishing, we'll get you fishing, and you'll have a Great Experience – Guaranteed!
Call or Text 757-752-0910
Are you on your way to Virginia Beach?
If you haven't picked up on it yet, we love Virginia Beach fishing and we can't wait to get you out here with us. Make your way up or down the coast, across the Chesapeake Bay and set your navigation to Sea Teaser at Rudee Inlet here in Virginia Beach. Look for the Sea Teaser fishing boat and climb aboard. Once those twin diesels start humming their way out into the best fishing grounds in the country – you'll know you've made the right decision. Looking forward to seeing ya soon!